Hope, Truth, & Love Discounted Pack - US ONLY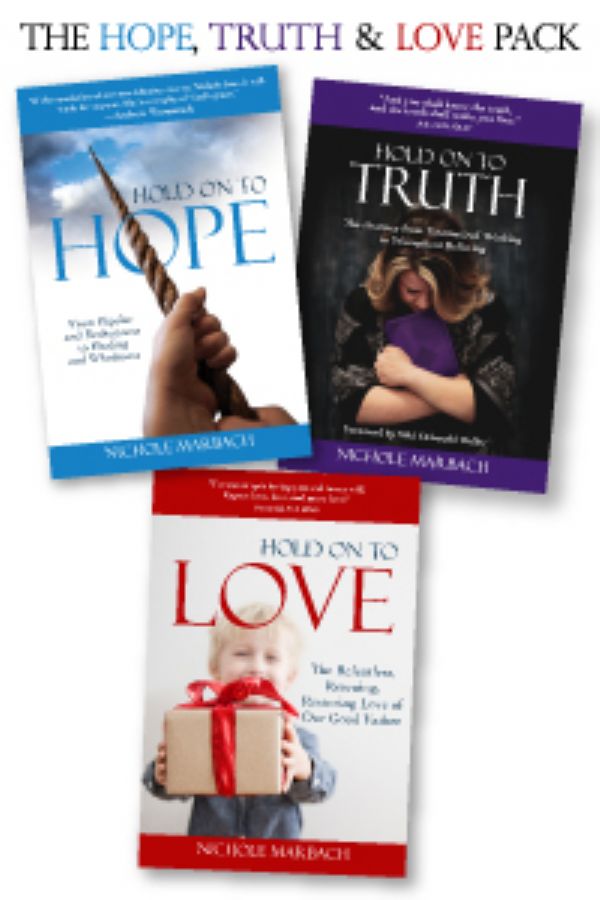 Hope, Truth, & Love Discounted Pack - US ONLY
SKU#: PROD72662
Nichole's powerful true story, Hold On to Hope, is a page turner that takes you inside her remarkable life journey, demonstrating that no one is beyond hope. You'll walk hand in hand with Nichole through her traumatic childhood into a life of triumph. Her story will bring you encouragement as you realize there's victory available for every trauma, incurable illness, addiction, rejection, and heartache; and, there's freedom for every self-destructive loved one who has wandered off the path. In reading Hold On to Hope, you'll discover that God is an incredibly Good and Rescuing Father, who leads us into perfect hope, healing, and wholeness in Jesus Christ.
Hold On to Love won 3rd place in the Xulon Press 2019 Christian Author Awards under the category of Christian Living.
Hold On to LOVE picks up where Hold On to HOPE – Nichole's powerful true story of trauma, abuse, and addiction, leading to God's miraculous physical and emotional healing – left off. Through these pages, you'll grow in a deeper revelation of God's amazing love for you, and you'll better understand His good opinion of you, especially when you fail. God is always on your side, ready to help you and rescue you, and He's continually working out good in your life. He celebrates and cherishes you! Once you know this life-changing truth for yourself, you'll be transformed.
Knowing that we're loved and accepted by a good Father is the most profound revelation we can ever experience, which leads to the greatest healing we'll ever know. If you're ready to see God as He truly is and receive this healing for yourself, walk with Nichole through Hold On to LOVE.
Hold On to Truth is like a good friend holding your hand on your journey, helping you renew your mind with compassion and truth. This book is jam-packed with the love, grace, truth, and promises of God for believers in a way that helps them start triumphantly believing and receiving these promises so they can reign in life (Romans 5:17). Hold On to Truth, designed with questions for individual or group study, is the third book in Nichole's series. Her first book, Hold On to Hope, is her powerful story of physical, mental, and emotional healing, while Hold On to Love reveals the amazing love of our good Father. All three books will bring healing to your heart as you discover the truth throughout Scripture of how secure, loved, forgiven, and accepted you are in Christ.
Product Details
Weight: 4 lbs.
Related Categories
**For International orders, please contact Nichole directly at info@nicholemarbach.com about ordering and shipping rates.