Hold On to Hope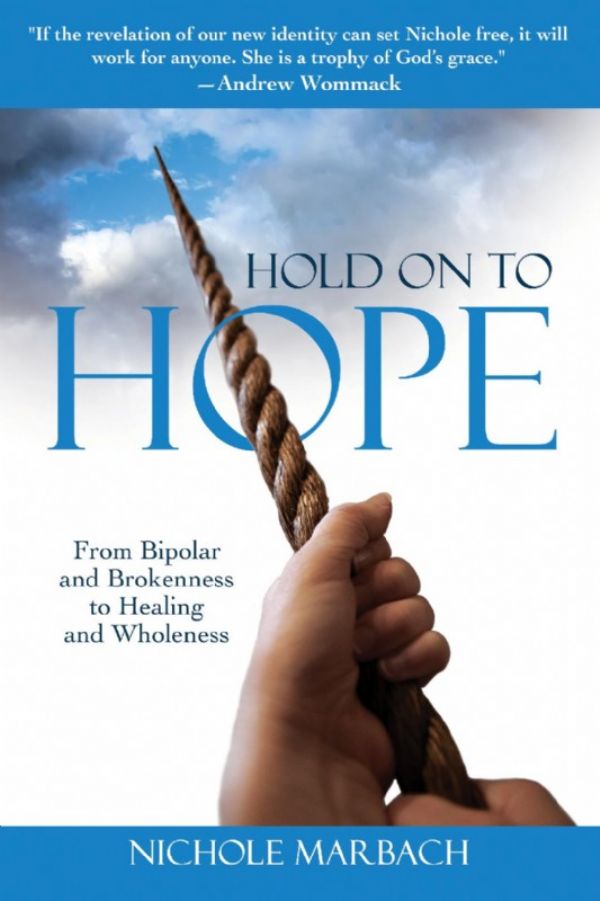 Hold On to Hope
SKU#: PROD69059
Also Available on Amazon.com - Check out what readers are saying:
Nichole's powerful true story, Hold On to Hope, is a page turner that takes you inside her remarkable life journey, demonstrating that no one is beyond hope. You'll walk hand in hand with Nichole through her traumatic childhood into a life of triumph. Her story will bring you encouragement as you realize there's victory available for every trauma, incurable illness, addiction, rejection, and heartache; and, there's freedom for every self-destructive loved one who has wandered off the path. In reading Hold On to Hope, you'll discover that God is an incredibly Good and Rescuing Father, who leads us into perfect hope, healing, and wholeness in Jesus Christ.
Praise for Hold On to Hope:
"I was thoroughly blessed reading Hold
On to
Hope. Knowing Nichole now, it's hard to believe that she was ever the disturbed woman portrayed in this book. The Lord enabled her to present her story in such a way that you will really feel what she went through. And when you read of how the truth set her free, you'll rejoice with her. I highly recommend this book for anyone who has dealt with rejection, self-hatred, drug or alcohol abuse, mental or emotional disorders, or anyone who doesn't know who they are in Christ. If the revelation of our new identity in Christ can set Nichole free, it will work for anyone. She is a trophy of God's grace."
Founder of Andrew Womack Ministries
---
Nichole and I have traveled the world together to share the extravagant grace of Jesus Christ and the love of our Good, Good Daddy. We've experienced all sorts of situations together, times of exuberant joy and times where our faith was tested. After so many plane rides, conferences, meals together, and heart-to-hearts about life and Jesus and relationships, I thought I knew her story… but this book has left me speechless. Knowing the beautiful, joyful, shining light that Nichole is today and reading the details of her journey to healing, I am stunned by the compassion of Jesus and overwhelmed with the goodness of our Father. Nichole beautifully expresses how knowing our identity in Christ as God's dearly loved children is the key to our freedom from any bondage. I am so grateful that she has given us this record of her redemption so that hope will be restored to the hurting who may have given up. There is no one beyond the grip of God's grace.
Founder of Parresia and author of Unveiling Jesus
---
"From the minute I started reading Nichole's book, I did not want to put it down. Her story left me stunned. I couldn't believe what I was reading – the hell Nichole lived through growing up.

Then, after living through Nichole's pain with her, I came to the most exciting part; the part of her story where Nichole was struck with the realization that she had been believing a whole bunch of lies for a whole bunch of years and the dramatic transformation that took place when she began to believe the truth about God, herself and her identity in Christ!

I bet the devil is sorry he ever messed with Nichole Marbach! I'm convinced God's grace will cause her story to travel far and wide, setting people free all across this planet. After all, it was for freedom that Christ set us free!" Galatians 5:1a

Sandra McCollom
Founder, Freedom Living Ministries and author of I Tried Until I Almost Died
Product Details
Weight: 1.75 lbs.
Related Categories
**For International orders, please contact Nichole directly at info@nicholemarbach.com about ordering and shipping rates.