122 Love Letters from the Throne of Grace Devotional Journal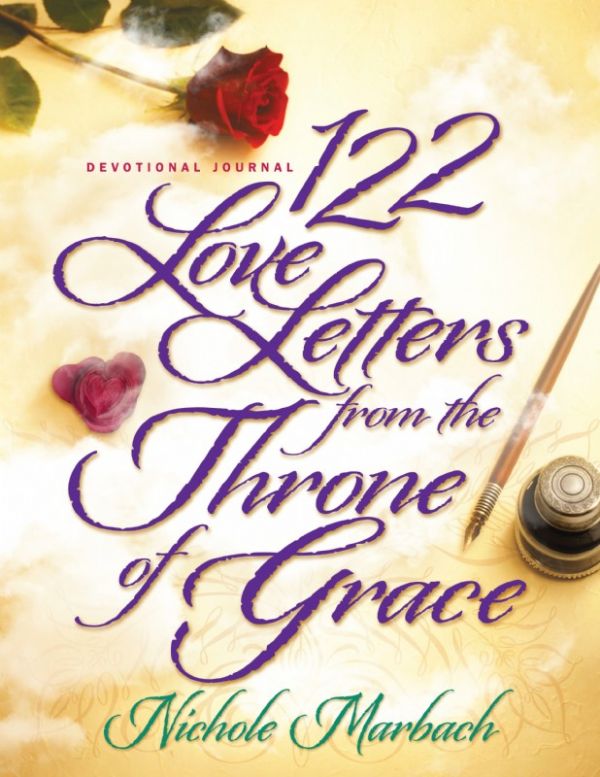 122 Love Letters from the Throne of Grace Devotional Journal
SKU#: PROD60963
For European orders (non-spiralbound), Please order here:
http://www.amazon.co.uk/gp/gateway-eu
122 Love Letters from the Throne of Grace is a powerful collection of prophetic words from God that unveil numerous aspects of God's heart, and are nothing less than daily "manna from Heaven," revealing His heart in a deep and profound way.
This 8 1/2 X 11 perfect bound book has 272 pages and full size journaling pages to enhance your intimacy with your Heavenly Father.
Designed to be a daily devotional journal, each daily prophetic message needs to be pondered and savored. These messages of grace will surely impact you!
The Love Letters contain themes such as:
Let Me be your "Daddy"

You are My Treasure

My Banner over you is love

You have a destiny

Taste and see that I am good

You are not a mistake
One Endorsement:
"Nichole's new devotional book is filled with beautiful revelation about God's love and goodness. I know these pages will bless you and fill your heart with peace as you read and meditate upon His Word."
Joshua Mills - www.intensifiedglory.com
One Amazon Review:
122 Letters from the Throne of Grace is a beautiful devotional that captures God's heart of love for us in a beautiful and very refreshing and easy to read style. Encouragement, inspiration and revelation of our Heavenly Father's deep and abiding love for us flow from each page written in God's voice. This book is a must read for anyone wishing to come to a deeper level of intimacy with the Father. It will speak directly to your spirit to give you a revelation of who God is to you and who you are to and in Him. This book is a fountain of refreshment and encouragement to anyone who needs uplifting and desires to grow in intimacy and knowledge of God's character, no matter what his or her stage of healing or maturity is. Furthermore, it has the potential to be life-transforming to those who are in need of healing from wounded hearts and for those who need an infusion of hope and faith because their trust in God and in their future has been shattered. I highly recommend this book to anyone at any stage of life or spiritual maturity. Knowing the full extent of God's love and grace for you is of vital importance to fully live the abundant life God has already prepared for us. This book is a revelation and an encounter with God's overwhelming love for His children and will speak life, encouragement and usher in deeper transformation to the parts of people's souls in need of healing and growth. You will be blessed. I highly recommend it!
Product Details
Weight: 2 lbs.
Related Categories
**For International orders, please contact Nichole directly at info@nicholemarbach.com about ordering and shipping rates.