100 More Love Letters from the Throne of Grace Devotional Journal (Spiral Bound)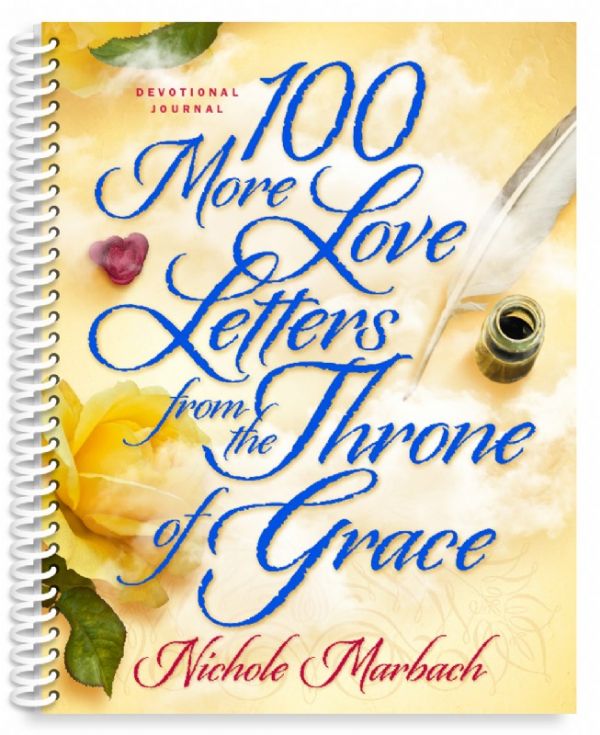 100 More Love Letters from the Throne of Grace Devotional Journal (Spiral Bound)
SKU#: PROD59785

For European orders (non-spiralbound), Please order here:
http://www.amazon.co.uk/gp/gateway-eu
In this amazing devotional, 100 More Love Letters from the Throne of Grace, Nichole gives you a peek into what a deeply personal and intimate relationship with our incomparable God is like. This book will help you know Him better. With candidness, humor, and much inspiration, Nichole unveils what God has spoken to her and what He wants to say to all of us, in these daily prophetic words that bring edification, exhortation and inspiration to the hearers.
This is an 8 1/2 X 11 222 page devotional journal. Each daily devotion has a full size journaling page to enhance your intimacy with your Heavenly Father. This is a spiral-bound book which makes it easier for people to fill in the journaling pages.
Endorsement:
"Unbelievable! That's what you'll be saying after reading this amazing, concise, anointed book (Day 9 is my favorite)! It speaks life right into the heart of young and old alike. Get ready to be encouraged like never before. Nichole's words are like drops of glory that fall on your thought life. Your brain will be washed with pure water as these 100 Love Letters break lies of religious bondage from your mind and heart. There is something ground-breaking and distinct with Nichole's writing. Don't hesitate to pick up a copy for you and your friends. It will truly speak God's love through every page."
Dr. Brian Simmons - The passion Translation
One Amazon Review:
"100 More Love Letters... is the perfect follow up from 122 Love Letters From the Throne of Grace. It's amazing the transformation that has taken place in my heart and mind from the beginning of the first book to as of now being halfway done with this follow up book. My responses in the journaling enteries are so much more healthy and sound and yes, even joyful. Nichole's understanding of our Heavenly Father's love for us and her ability to communicate it to the reader is truly a gift. This is so much more than a devotional when you work through these Holy Spirit inspired pages."
Product Details
Weight: 2.15 lbs.
Related Categories
**For International orders, please contact Nichole directly at info@nicholemarbach.com about ordering and shipping rates.