Hope & Healing with Audrey Mack!
Saturday, June 06, 2020 from 10:00 AM to 4:00 PM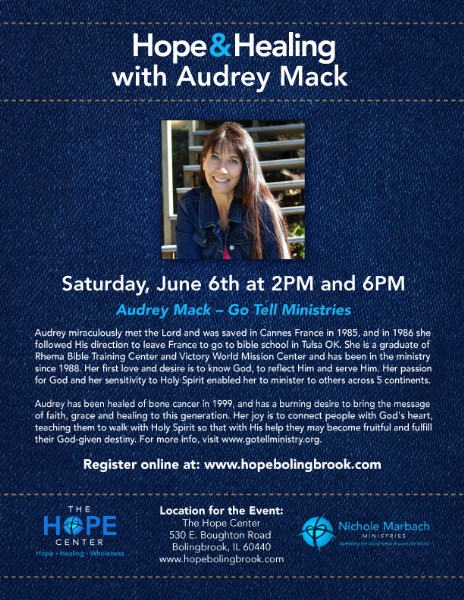 I am so excited to be hosting Audrey Mack at The HOPE Center June 6th, 2020 at 10AM and 2PM. Mark the date for a powerful time of truth and healing. To register click HERE.
Check out Audrey's bio and website for more info:
Audrey Mack – Go Tell Ministries
Audrey miraculously met the Lord and was saved in Cannes France in 1985, and in 1986 she followed His direction to leave France to go to bible school in Tulsa OK. Audrey is a graduate of Rhema Bible Training Center and Victory World Mission Center and has been in the ministry since 1988. Her first love and desire is to know God, to reflect Him and serve Him. Her passion for God and her sensitivity to Holy Spirit enabled her to minister and help many across 5 continents.
Audrey has been healed of bone cancer in 1999, and has a burning desire to bring the message of faith, grace and healing to this generation. Her joy is to connect people with God's heart, teaching them to walk with Holy Spirit so that with His help they may become fruitful and fulfill their God-given destiny..
Audrey married her husband Frederick in 1999. Frederick is a graduate of Charis Bible College but also a successful general contractor who sees his business as an avenue to serve and share his faith. Together they make a good team. Audrey has grace to go to the nations, and Fred has grace to let her go. Frederick and Audrey reside in Jacksonville FL. For more info, visit www.gotellministry.org.
Event Location
The Hope Center • 530 E. Boughton Road • Bolingbrook, IL 60440 •