Hold On to Love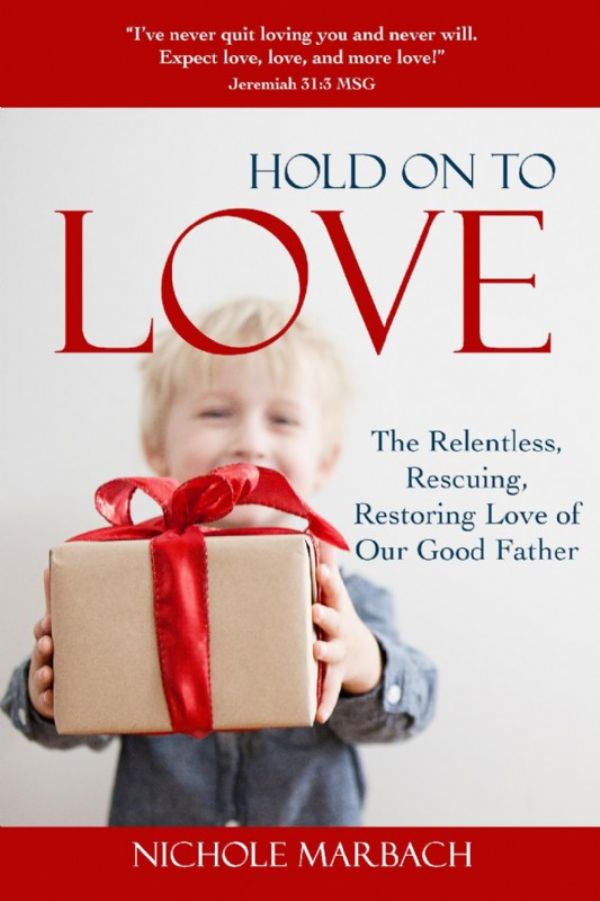 Hold On to Love
SKU#: PROD70649
Hold On to LOVE picks up where Hold On to HOPE – Nichole's powerful true story of trauma, abuse, and addiction, leading to God's miraculous physical and emotional healing – left off. Through these pages, you'll grow in a deeper revelation of God's amazing love for you, and you'll better understand His good opinion of you, especially when you fail. God is always on your side, ready to help you and rescue you, and He's continually working out good in your life. He celebrates and cherishes you! Once you know this life-changing truth for yourself, you'll be transformed.
Knowing that we're loved and accepted by a good Father is the most profound revelation we can ever experience, which leads to the greatest healing we'll ever know. If you're ready to see God as He truly is and receive this healing for yourself, walk with Nichole through Hold On to LOVE.
Endorsements:
In Hold On to Love, Nichole presents the heart of the Father and His great love for mankind beautifully. Her testimony, honesty, and passion to see others set free shines throughout the book. I am always encouraged to see the scriptures presented with such clarity and simplicity. I believe this book will bless and encourage many hearts and lead them into a greater understanding of the absolute freedom and security in God, who loves us all unconditionally and without reservation or hidden agendas.
Arthur Meintjes Founder, Kingdom Life Ministry

Hold On To Love takes readers to the very heart of freedom: the love demonstrated for us when Jesus took all of our shame, condemnation, sickness, failure, abuse, addiction, self-hatred, pain, and suffering at the cross. No one is beyond the reach of God's extravagant love and the superabundance of the grace that has been poured out on us through the cross of Jesus Christ. Nichole has laid it all out, verse by verse, in this excellent treasure. I believe many will be healed as the Word goes forth in all the power of the gospel!
Tricia Gunn Founder, Parresia and author of Unveiling Jesus

Nichole has done an amazing job inviting us into her understanding of the love of God, which rescued her from a horrible pit. This book is a walk into the Father's loving embrace. Her genuineness, humor, and transparency shine through every page of this book. I would suggest it to anyone who is interested in experiencing the Father's love in a deeper way.
Jeremiah L Johnson, Jeremiah Johnson Ministries

I have had the privilege of being friends with and ministering side by side with Nichole for several years now. I've walked through and been there with her as she's experienced and shared the powerful truths in this book, Hold On to Love, with people all over the world. It's such an honor to share life with her and watch people set free as she shares her testimony and her continued walk with God.
We all struggle with searching for our purpose in life sometimes. In this book, Nichole shares her story and struggles as she continues to walk out her freedom from the bondage of believing a false identity, while she holds on to her true identity as a loved and cherished daughter of God. As it is with all of us, everyday battles have tried to rip her hands off of the lifeline of knowing she is completely, unconditionally safe and loved by God. Her life's goal is to share her story to help others know the truth and find freedom as she has.
I seriously could hear her very voice in my head as I read the powerful words on the pages of this amazing book. Every word oozes the love of God and His opinion of us. You'll be transformed as you read it and realize that God did everything for us, and all we need to do is believe He loves us that much! Hold On to Love continues Nichole's victorious walk with Jesus, as He has never let go of her. Within its pages, she shares how He'll never let go of us either. Living loved by God is how we were created to live. We can and will experience a life of beauty and victory if we embrace who He says we are, hold on to His love, and never let go.

Christy Rose Public, Speaker and Minister of the Gospel of Jesus Christ
Product Details
Weight: 1.75 lbs.
Related Categories
**For International orders, please contact Nichole directly at info@nicholemarbach.com about ordering and shipping rates.