Healing is YOURS! Conference Registration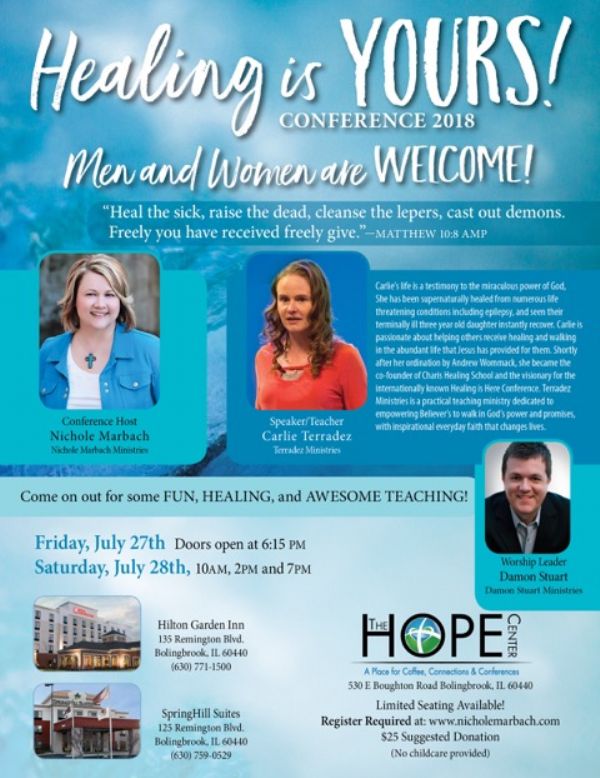 Healing is YOURS! Conference Registration
SKU#: PROD65358
CONFERENCE IS FULL!!!
Come on out and be blessed by some amazing teaching from Carlie Terradez of Terradez Ministries. She is a regular teacher at Andrew Wommack Ministries' Charis Bible College Healing School in Colorado and her amazing testimony will inspire you to never give up hope on the promises of God that are yes and amen in Jesus.
There will be live worship, teaching, and prayer ministry at this conference. We have no doubt that Jesus is going to show off with what He does best, healing miracles. Come and receive what is already yours in Christ. I believe the Holy Spirit will help connect the dots this weekend and replace lies with truth so that people are walking in healing and wholeness and they will go out and share healing with the world.
Bios:
Carlie Terradez
Carlie's life is a testimony to the miraculous power of God. She has been supernaturally healed from numerous life threatening conditions including epilepsy, and has seen their terminally ill 3 year old daughter instantly recover. Carlie is passionate about helping others receive healing and walking in the abundant life that Jesus has provided for them.
Carlie was born and raised in the UK and moved to the USA after graduating from Charis Bible College in 2008 with her husband Ashley. Shortly after her ordination by Andrew Wommack, she became the co-founder of Charis Healing School and the visionary for the internationally known Healing is Here Conference. Terradez Ministries is a practical teaching ministry dedicated to empowering believer's to walk in God's power and promises, with inspirational everyday faith that changes lives.
Nichole Marbach
Nichole Marbach is the founder of

Nichole Marbach Ministries.

She has ministered throughout the U.S. and internationally as a conference speaker and teacher. She is a graduate and licensed minister of Charis Bible College Chicago, a Certified Joy Restoration Coach©, and author. Nichole feels called to spread the extreme love and grace of God through the finished work of Jesus Christ around the world. Her powerful testimony of overcoming bipolar disorder and addictions, has given her a passion to minister the Father's heart of love to hurting people. She loves to teach people that Jesus paid the price for their healing and encourage them to never give up hope on the promises of God which are "Yes and Amen!" in Christ. Nichole's "Healing Journey" has aired on Andrew Wommack's The Gospel Truth TV program and is currently a healing testimony on his website.
Damon Stuart
Damon Stuart For the past 20 years, Damon Stuart has been using the gifts the Lord placed on his life to lead people into His presence. He has ministered throughout the U.S. and internationally as a worship leader, psalmist and evangelist. He has also appeared and ministered on several Christian television and radio programs. As a worship leader, his desire is to bring people into the deeper realms of God's glory through worship. As Damon ministers, the healing, prophetic anointing and manifested presence of God takes place. Damon is a songwriter, composer, recording artist, author, speaker and teacher and has served as a worship pastor/leader.
Conference Schedule:
Friday July 27th - Doors Open at 6:15PM
Conference starts at 7PM
Saturday July 28th - Doors open at 9:30AM
Conference sessions at 10:00AM, 2:00PM, and 7:00PM
There will be worship, teaching, and healing prayer ministry with words of knowledge for healing because God wants us well!
Hotel Information & Registration: The Hope Center has partnered with Aloft hotel in Bolingbrook, IL, located 1/2 mile from us. We encourage you to stay there if possible. It is part of the Marriott Hotel family that is modern and nice on the interior with amazing customer service. Shuttle service to and from The Hope Center during conferences will be provided with advance reservations. Rooms are discounted at $107 per night.
Hotel Link: https://www.starwoodmeeting.com/Book/healingconference
Hotels within 3 miles of The HOPE Center and restaurants within walking distance. Cafe 22 (The HOPE Center Coffee Cafe) will be open before sessions.
Product Details
Related Categories
**For International orders, please contact Nichole directly at info@nicholemarbach.com about ordering and shipping rates.