Grace Immersion Conference April 2018 Conference Registration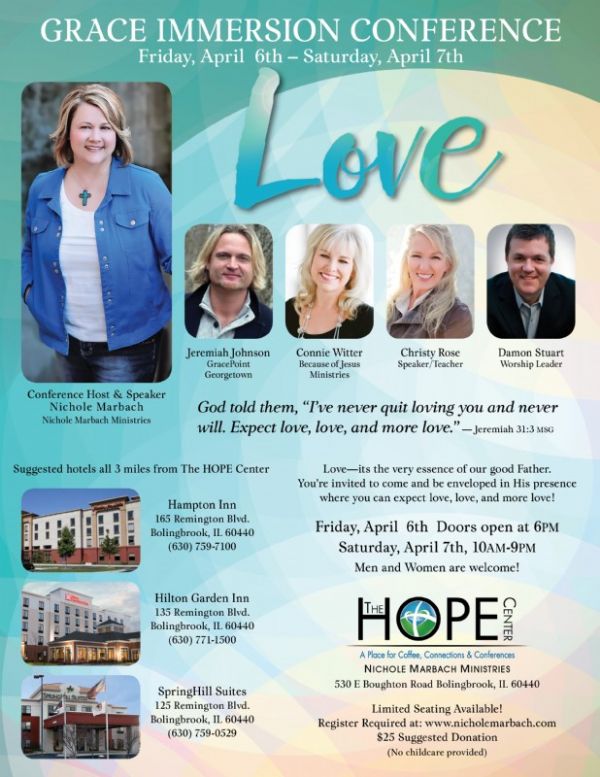 Grace Immersion Conference April 2018 Conference Registration
SKU#: PROD65185
After you register, Nichole will email you the printable flyer and conference schedule. Click on the flyer picture to see close up.
Bios:
Jeremiah Johnson
Jeremiah spent the first 19 years of his life as a drug addict, alcoholic, atheist, until a radical encounter with Jesus set him free, enjoying the beauty and freedom that a relationship with Jesus provides.
He was then ushered into 14 years of legalistic Christianity that proved to be an even greater bondage than the drug addiction and alcoholism. Jeremiah then encountered the true gospel of grace which returned him back to his first love; Jesus! Now he enjoys the true freedom that amazing grace provides. With 13 years of full time ministry behind him, Jeremiah is in full stride to share the good news of Jesus and his unfailing love. Jeremiah is the senior pastor at Grace Point church in Georgetown, Kentucky, an author, and also has an active traveling ministry.
Connie Witter
Connie Witter, founder of Because of Jesus Ministries is a speaker, teacher, and the author of numerous Bible studies and books that focus on Jesus and His finished work. After 20 years of struggling to "measure up" Connie cried out for the Truth that would set her free from the frustration and disappointment of trying to qualify herself for God's blessings. This began her journey out of darkness into the marvelous light of Jesus and His unconditional love and grace. Whether ministering in a church, conference, prison or at her weekly Bible study, Connie's passion is for everyone's heart to be awakened to their true identity as a blessed & loved child of God! Connie's TV program, "Because of Jesus with Connie Witter," airs nationally every Wednesday morning at 8:30 AM on direct TV 363, Cox Channel 23 in Tulsa, OK, KUGB TV 28.1 in Houston, TX, and worldwide on her ministry website: BecauseofJesus.com.
Christy Rose
Christy Rose is a professed recovering Pharisee! From a young child, she always behaved in ways that would bring her acceptance and approval. After graduating from Rhema Bible Training Center, Christy began living her dream of being a stay-at-home wife and mother and still had time to teach Sunday school and Bible study and be a youth and children's pastor with her husband Aaron. Christy became a woman of grace when God's unconditional love and grace brought her to the place of exchanging her self-righteousness for Jesus' righteousness! As a mother of six she has learned to depend on His love and grace and continues to share the true Good News in Sunday School classes, Bible Studies, and conferences. Her humor, life experiences, and love of God's Word uniquely equip her as a dynamic and anointed minister of the Gospel of Grace.
Nichole Marbach
Nichole Marbach is the founder of

Nichole Marbach Ministries.

She has ministered throughout the U.S. and internationally as a conference speaker and teacher. She is a graduate and licensed minister of Charis Bible College Chicago, a Certified Joy Restoration Coach©, and author. Nichole feels called to spread the extreme love and grace of God through the finished work of Jesus Christ around the world. Her powerful testimony of overcoming bipolar disorder and addictions, has given her a passion to minister the Father's heart of love to hurting people. She loves to teach people that Jesus paid the price for their healing and encourage them to never give up hope on the promises of God which are "Yes and Amen!" in Christ. Nichole's "Healing Journey" has aired on Andrew Wommack's The Gospel Truth TV program and is currently a healing testimony on his website.
Damon Stuart
Damon Stuart For the past 20 years, Damon Stuart has been using the gifts the Lord placed on his life to lead people into His presence. He has ministered throughout the U.S. and internationally as a worship leader, psalmist and evangelist. He has also appeared and ministered on several Christian television and radio programs. As a worship leader, his desire is to bring people into the deeper realms of God's glory through worship. As Damon ministers, the healing, prophetic anointing and manifested presence of God takes place. Damon is a songwriter, composer, recording artist, author, speaker and teacher and has served as a worship pastor/leader.
Grace Immersion Conference Schedule:
Friday, April April 6th
Doors Open - 6:00PM
Worship - 7:00-7:30PM
7:30-8:15PM Connie Witter
8:30-9:15 Jeremiah Johnson
Saturday, April 7th
Worship - 10:00AM-10:30AM
10:30AM-11:00AM Nichole Marbach
11:15AM-12:15PM Christy Rose
2:00-2:15PM Worship
2:15PM-4:00PM Connie Witter
4:00-4:30PM Prayer Ministry
7:00-7:30PM Worship
7:30-9:00PM Jeremiah Johnson
Hotels are listed on flyer.
Hotel Information & Registration: The Hope Center has partnered with Aloft hotel in Bolingbrook, IL, located 1/2 mile from us. We encourage you to stay there if possible. It is part of the Marriott Hotel family that is modern and nice on the interior with amazing customer service. Shuttle service to and from The Hope Center during conferences will be provided with advance reservations. Rooms are discounted at $107 per night.
Hotel Link: https://www.starwoodmeeting.com/Book/graceimmersion
Location: The HOPE Center - 530 E Boughton Rd - Bolingbrook, IL - 60440
Product Details
Related Categories
**For International orders, please contact Nichole directly at info@nicholemarbach.com about ordering and shipping rates.